The modern basics: Water, root canals and WiFi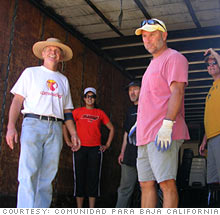 To aid native tribes in Baja California, entrepreneur Tom Hogan launched a charity that runs like a business.
By Lan Nguyen, CNNMoney.com contributing writer
November 25, 2009: 5:26 AM ET
NEW YORK (CNNMoney.com) -- After spending nearly 20 years as a Silicon Valley executive and entrepreneur, when Tom Hogan decided to start a charity, he knew one thing for sure: he wanted to run it like a business.
In 2003 he and Bill Rush co-founded Comunidad Para Baja California, a nonprofit dedicated to improving the lives of the four native tribes in Mexico's northern Baja California region. "We stayed focused on the ROI for our donors' money and our volunteers' time," says Hogan, founder and creative partner of Crowded Ocean, a Silicon Valley marketing agency that works with high-tech startups. "Every one of our programs runs off spreadsheets with specific dollar amounts. We can tell our donors 'for $55,000, you can give potable water to these three tribes,' or 'for $6,000, you can sponsor two health fairs.' Donors, especially the high-end folks like venture capitalists, love it. It's very specific and precise."
Hogan was inspired by his own experience as a volunteer in the area with Los Medicos Voladores, aka "the Flying Doctors," a Northern California charity that delivers free medical, dental, and optometric services to the poor in Mexico and Central America. Hogan, 56, wanted Comunidad Para Baja California to focus on the Nativos' medical needs, but also to address long-term problems like education and infrastructure.
The nonprofit flies in doctors and volunteers to screen the Nativos for diseases like diabetes, conduct eye exams and teach drug and pregnancy prevention seminars. The group also holds quarterly dental clinics, and has provided $1.6 million worth of root canals, extractions and tooth replacements to date.
"Rather than triage work, I wanted to do prevention like vaccination," says Hogan. "I saw the indigenous tribes as a chance to work from symptom to source."
Comunidad Para Baja California -- which loosely translates as "a community in support of Baja California" -- also funds 175 scholarships for students. A little cash goes a long way: Just $200 will cover the annual costs of one student's tuition, books and other supplies. The middle school at Cucapah, populated with students supported by Comunidad's scholarships, recently won a national award for a science program that combined conservation with preservation of their native culture. Rather than have the $8,000 prize go to families -- as their parents wanted -- the kids voted to use the money to buy laptops and install WiFi for the community. Says Hogan, "It's a great story of kids using modern technology, which so many people see as a threat to tradition, to preserve and extend their culture."
To date the nonprofit has raised $300,000 from friends and venture capitalists in Silicon Valley, with all donated monies funding their programs. Operational costs are covered by Hogan and his wife, Pamela Pearson.
Comunidad is now at a crossroads: The charity is wrestling with how to make the tribes more self-sufficient. "We think the health and education programs are in maintenance mode," Hogan says. "The infrastructure program has a list that will keep us busy for another three years. During that time, we'll work with the tribal leaders on how to both preserve their culture and expand their economic opportunities -- the two most obvious approaches are ecotourism, which we've started to develop with them, and finding markets for their pottery, weavings and beadwork."